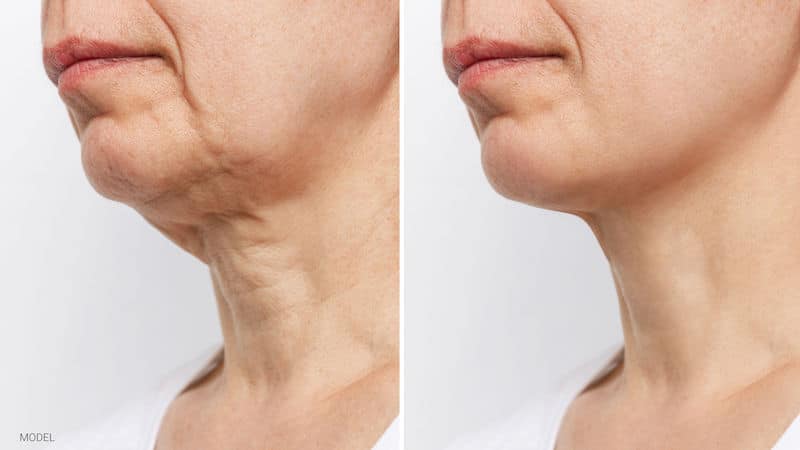 4 Minute Read: 
As we get older, our skin loses elasticity, which can result in wrinkles, fine lines, and sagging. While this is a natural part of aging, most of us do what we can to delay this process by moisturizing our skin regularly and starting on non-surgical treatments as soon as possible.
While many individuals are vigilant in providing the care needed on their faces, and there are many non-surgical treatments to address facial concerns, the delicate skin on their necks is often neglected. Unfortunately, this area actually requires more hydration due to neck skin being thinner, having fewer oil glands, and being more prone to dryness and wrinkles than the face. 
Still, there's no guarantee that practicing the best skincare routine in the world will prevent an aging neck from giving away one's age, even if the face looks youthful and wrinkle-free.
What Are the Signs of an Aging Neck? 
The most common signs of an aging neck include the following:
Wrinkles and fine lines

: The skin on the neck is prone to wrinkles and fine lines, particularly horizontal lines (banding), that can be caused by repeatedly looking down at a screen or book.

Sagging skin

: As we age, the skin on the neck can become looser and less elastic, leading to sagging skin and jowls.

Crepey skin texture

: The skin on the neck can develop a crepey, paper-thin texture as we age, which can be particularly noticeable in harsh lighting.

Double chin

: As we age, we may develop a double chin or excess fat under the chin, which can be difficult to treat without surgical intervention.
How Can You Prevent Premature Neck Aging? 
Protect your skin from the sun

: Wear sunscreen with a minimum SPF of 30 on your neck and chest, even on cloudy days. Wear a wide-brimmed hat or scarf to protect your neck from the sun's rays.

Moisturize

: Use a moisturizer that contains hyaluronic acid or ceramides to hydrate and plump up the skin on your neck.

Exercise

: Regular exercise can help tone the neck muscles and prevent sagging.

Improve your posture

: Sit and stand up straight, trying not to slouch or hunch your shoulders. This can help to prevent the development of horizontal necklines.
How Can You Minimize the Appearance of an Aging Neck? 
Consider non-surgical treatments

: For minor age-related changes in the neck, non-surgical treatments such as laser treatments or radiofrequency can sometimes tighten and firm the skin in this area.

Consider a surgical neck lift

: Plastic surgery is the most effective way to correct a wrinkled, sagging, banded, and crepey neck. If you choose to undergo

a

facelift

, ask your surgeon if a neck lift will be included, as an aging neck can give away your age, even if your face is youthful and wrinkle-free.
How to Choose a Plastic Surgeon for Your Neck Lift
If you decide a neck lift is the best option for you, consider the techniques your plastic surgeon uses. While most plastic surgeons only offer a traditional neck lift, Dr. Bravo offers more advanced surgical techniques, including the reduction neck lift. 
Traditional Neck Lift 
A conventional neck lift often involves simply lifting and pulling the neck skin and platysma muscles to smooth out the contours of the neck and jawline while using liposuction to remove submental (under the chin) fat. However, this approach often leaves deep tissue and muscle structures more pronounced and the neck appearing less than natural, especially during movement. 
Still photographs of traditional neck lift results can be deceiving because they don't show the neck in motion. While looking great in one position, it doesn't necessarily mean the neck maintains this appearance at all times.
Reduction Neck Lift
The reduction neck lift addresses excess fullness under the jawline without aggressive liposuction because the volume in this area is not composed entirely of fat. Instead, Dr. Bravo creates younger-looking chin and jawline angles by using advanced neck lift techniques to adjust the underlying structures and ensure a natural appearance regardless of neck position.
This method also provides youthful contours throughout the neck area that remain natural-looking when the neck moves for a consistently smooth transition to the lower face.
5 benefits of a reduction neck lift include:
Natural and youthful results

whether the neck is moving or at rest  

A

more defined jawline

from all angles

Eliminates a double chin

Reduction or elimination of vertical and horizontal banding

 

Prevents over tightening

the platysma muscle or neck skin 
Finding
Reduction Neck Lift Surgery in Madrid, Spain
Dr. Bravo is a highly respected plastic surgeon committed to delivering the best results for those who choose cosmetic surgery procedures, including neck lifts in Madrid.
Along with being the president of the Spanish Association of Aesthetic Plastic Surgery (AECEP), he is a member of the Spanish Society of Plastic, Reconstructive, and Aesthetic Surgery (SECPRE). 
Dr. Bravo is also one of a handful of European plastic surgeons board-certified by The American Society of Plastic Surgeons (ASPS) and The American Society for Aesthetic Plastic Surgery (ASAPS) which has strict professional criteria for the admittance of international members. 
When it comes to performing facelift procedures, Dr. Bravo always includes his advanced neck lift technique for a comprehensive surgical facial rejuvenation treatment.
To learn more, or schedule a consultation, call 91 575 60 60 today!