Cosmetic concerns with the nose can negatively affect the entire facial aesthetic. Whether patients suffer from these from birth or these concerns result from an injury (broken nose), rhinoplasty (nose surgery) can offer the correction needed to help women and men feel more confident with their appearance.
With nose surgery, the nasal structure is corrected to improve its shape and/or function.
Dr. Bravo is skilled and knowledgeable about all facial procedures, including rhinoplasty. His attention to detail and focus on patients' health and results have made him one of the most trusted cosmetic surgeons in Madrid and throughout the worldwide medical community.
Rhinoplasty Vs. Rhinoseptoplasty
Rhinoplasty and Preservation Rhinoplasty
Rhinoplasty addresses the aesthetic aspect of the nose, including size and shape. Depending on the type of correction desired, Dr. Bravo can perform an open rhinoplasty, a closed rhinoplasty or a closed-open rhinoplasty technique. In addition to providing natural-looking and beautiful results, Dr. Bravo prioritizes natural-feeling results. He is an expert in preservation rhinoplasty and strives to create noses that remain soft and bend naturally.
Rhinoseptoplasty
In addition to aesthetic rhinoplasty surgery, Dr. Bravo offers rhinoseptoplasty, a nose surgery that addresses cosmetic nasal concerns (similar to a standard rhinoplasty) and structural issues that affect breathing, such as a deviated septum. This procedure manipulates cartilage and bone within the nose (lifted and/or removed) to help realign the nasal septum. In those cases in which there is also a nasal respiratory failure, it may be necessary to modify the shape of the septum and turbinates to improve breathing, associating septoplasty or turbinoplasty with nose surgery.
Benefits of Rhinoplasty
Rhinoplasty or rhinoseptoplasty can help you achieve a more attractive facial appearance while boosting your self-esteem. These procedures can correct a number of nasal concerns, including:
Noses that are too big for the face
Noses that are too small for the face
Bulbous or droopy nasal tip
Widened and open nostrils
Nasal humps
Crooked nose
Protruding dorsum
Deviated septum
In addition to improving the look of the nose, rhinoplasty can adjust the angle between the nose and the upper lip and can help correct birth defects, nasal injuries and some respiratory problems.
Maintaining Facial Balance
While correcting the nose's appearance can significantly improve the entire facial aesthetic, many patients combine their nose surgery with other facial procedures to ensure that all features blend naturally and harmoniously. Changing the shape of the nose will significantly impact the look and proportion of the eyes, lips and other features. Because of this, combination techniques are recommended. To achieve more comprehensive results, you may want to consider combining your rhinoplasty with any of the following procedures:
Am I a Candidate for Rhinoplasty?
Plastic surgery is the best approach for correcting aesthetic concerns with the nose and can help you find a sense of pride in your appearance. If you are frustrated with the appearance of your nose, then you may be a candidate for rhinoplasty. Ideal candidates for rhinoplasty are non-smoking women and men who have cosmetic or functional concerns with their noses. Patients should also be in good general health and have realistic expectations for their results. If you think you may be a candidate for nose surgery, schedule your consultation today. At your consultation, Dr. Bravo will evaluate your nasal structure to determine whether rhinoplasty or rhinoseptoplasty is the right procedure.
Why Choose Dr. Bravo for My Rhinoplasty?
Dr. Francisco Bravo is a highly respected plastic, reconstructive and aesthetic surgeon and an international speaker. He is committed to delivering the best results for those who choose cosmetic procedures and consistently pushes for innovation in plastic surgery. He is the president of the Spanish Association of Aesthetic Plastic Surgery (AECEP) and a member of the Spanish Society of Plastic, Reconstructive and Aesthetic Surgery (SECPRE). Dr. Bravo is also one of a handful of European plastic surgeons board-certified by The American Society of Plastic Surgeons (ASPS) and The American Society for Aesthetic Plastic Surgery (ASAPS) which has strict professional criteria for the admittance of international members.
Why Travel to Madrid for My Rhinoplasty?
When selecting a plastic surgeon to put your trust in, you should choose one who offers the very best care. This may or may not be in the area you live. Traveling for plastic surgery is becoming more common as patients can more easily access the top plastic surgery clinics in the world. Clínica Gómez Bravo in Madrid welcomes patients from around Spain, Europe and the rest of the globe. Contact our office to learn more about the benefits and ease of traveling to Madrid for your rhinoplasty.
How Is Rhinoplasty Performed?
There is no universal rhinoplasty technique. Instead, it must be designed individually for each patient. Your consultation is one of the most important aspects of your rhinoplasty procedure. During your first consultation, you will meet with one of Dr. Bravo's team members to determine your candidacy. You will then have a diagnostic consultation with Dr. Bravo. During this consultation, Dr. Bravo will discuss which technique he will use for your procedure, what to expect during the surgery, and any pre- or post-operative instructions that are important. Before your rhinoplasty, you may need to take several tests for safety, including a blood test and electrocardiogram. During the actual procedure, anesthesia will ensure that you do not feel any pain or discomfort. Depending on the technique used, Dr. Bravo will make an incision on the columella or within the nostrils. An open rhinoplasty makes the incision across the columella (the strip of skin between the nostrils). This allows Dr. Bravo more accessibility and a better view of the nasal structure. With a closed rhinoplasty, the incision is made within the nostrils. This technique ensures that there are no visible scars; however, this also keeps Dr. Bravo from having clear access to the underlying structures of the nose. To improve the aesthetics of the nose, correct respiratory problems and provide greater harmony with the rest of the face, Dr. Bravo often performs a personal closed-open rhinoplasty technique: closed-open rhinoplasty with extended lip dissection (CORELD). After the incision is made, Dr. Bravo will manipulate the cartilage and bone to make the necessary improvements to the nose. This may include shaving cartilage and bone or adding cartilage grafts. This procedure generally takes one and a half hours to three hours to complete.
Revision Rhinoplasty
The most common risk of rhinoplasty is that the result is not as expected, necessitating a retouch or revision. If the rhinoplasty was performed using modern techniques, these touch-ups are relatively simple to carry out and can often be performed under local anesthesia, on an outpatient basis, with virtually no recovery period. When the initial rhinoplasty intervention was not executed in an ideal way, the revision is more complex. This often requires general anesthesia and the use of cartilage grafts. Other possible risks include bleeding, infection, poor healing and respiratory problems. All of these are rare and can be resolved using surgical revisions.
How Long Is Rhinoplasty Recovery?
Though it varies with each individual, most patients recover after three weeks. Patients can expect bruising, swelling, tenderness and even some pain in the face immediately after the surgery. This is expected, and these side effects will dissipate over time. Additionally, medication can be taken to alleviate any pain. Patients will have two small intranasal drains and an external plaster splint. Dr. Bravo chooses not to place nasal packing to ensure comfort and allow patients to breathe without complications. The drains will be removed after two days, and the splint will be removed after 7 to 10 days. After the plaster splint is removed, patients will need to wear discreet plasters to protect the nose, decrease inflammation and speed up recovery. These plasters will be worn for three to four days and then only at night. During recovery, it is important to keep the head elevated and refrain from strenuous activity, including lifting heavy objects. While short, slow walks help promote blood circulation, allowing your body to rest and recover from the procedure is necessary.
What Kind of Results Can I Expect From My Rhinoplasty?
After rhinoplasty, patients can expect permanent improvement to their noses (barring injury). They can look forward to noses that are more balanced to the rest of their facial features, leading to improved confidence and comfort with their appearances. Regardless of the correction needed, rhinoplasty or rhinoseptoplasty can help improve patients' quality of life.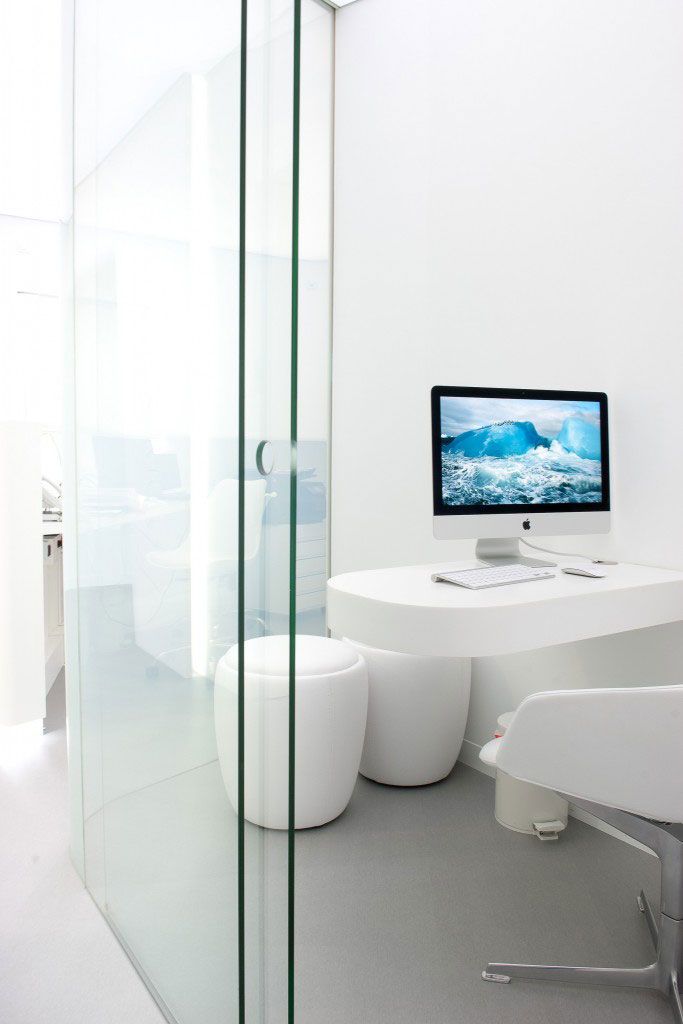 Do You Need More Information About Rhinoplasty in Madrid?
Leave us your information in our contact form, and we will provide you with more information about rhinoplasty at Clínica Gómez Bravo.
Info.
Aesthetic |  Reconstructive  |  Non-surgical
Discover all our services.
CONTACT
Fill out the following contact form and we will contact you as soon as possible.